Event
Paper-themed events will be held throughout the day on 9th October, and will include workshops and a paper market.
* In view of the spreading COVID-19 pandemic, these events are subject to change.
Note: Go to the Topics page for the latest information about events.
Paper Market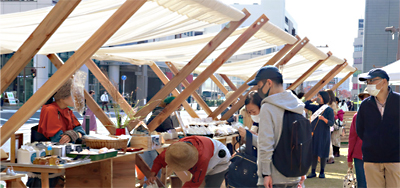 The event will be held at Toyota Sango-kan and Toyoshiba, a town square at the east exit of Toyota Station, and will include paper-related sales, as well as workshops on craftsmanship, art, etc., to allow the general public to enjoy and become familiar with paper.
Dates: 9th October, 2021
Time: 10:00 – 16:00
Venue: TOYOCBA  , Toyota Sangokan
---
---
---